Franklin Ace 1200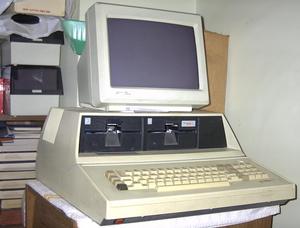 David had a Franklin Ace 1200. The Franklin is a 6502-based Apple II http://apple2history.org clone. It also had a Z80 card that could boot CPM.


The Franklin Ace 1200 label.


It had two Franklin Ace 10 360 KB floppy drives.

---
SCS had an Apple II and an Apple III.
We ran UCSD Pascal on both ../at/psysversions.html
The Apples ran OK, but many people had problems with Apple III computers.
http://lowendmac.com/coventry/06/0901.html Apple III Chaos: What Happened When Apple Tried to Enter the Business Market
Apple II wiki http://wiki.apple2.org/
SCS also had an Apple Mac II ../macII/macII.html
---
http://williambader.com - Revised March 21, 2023 11:58:43 PM.
Copyright © 2023 William Bader.